02/10/2020 08:00 AM Central
Aimee Carlson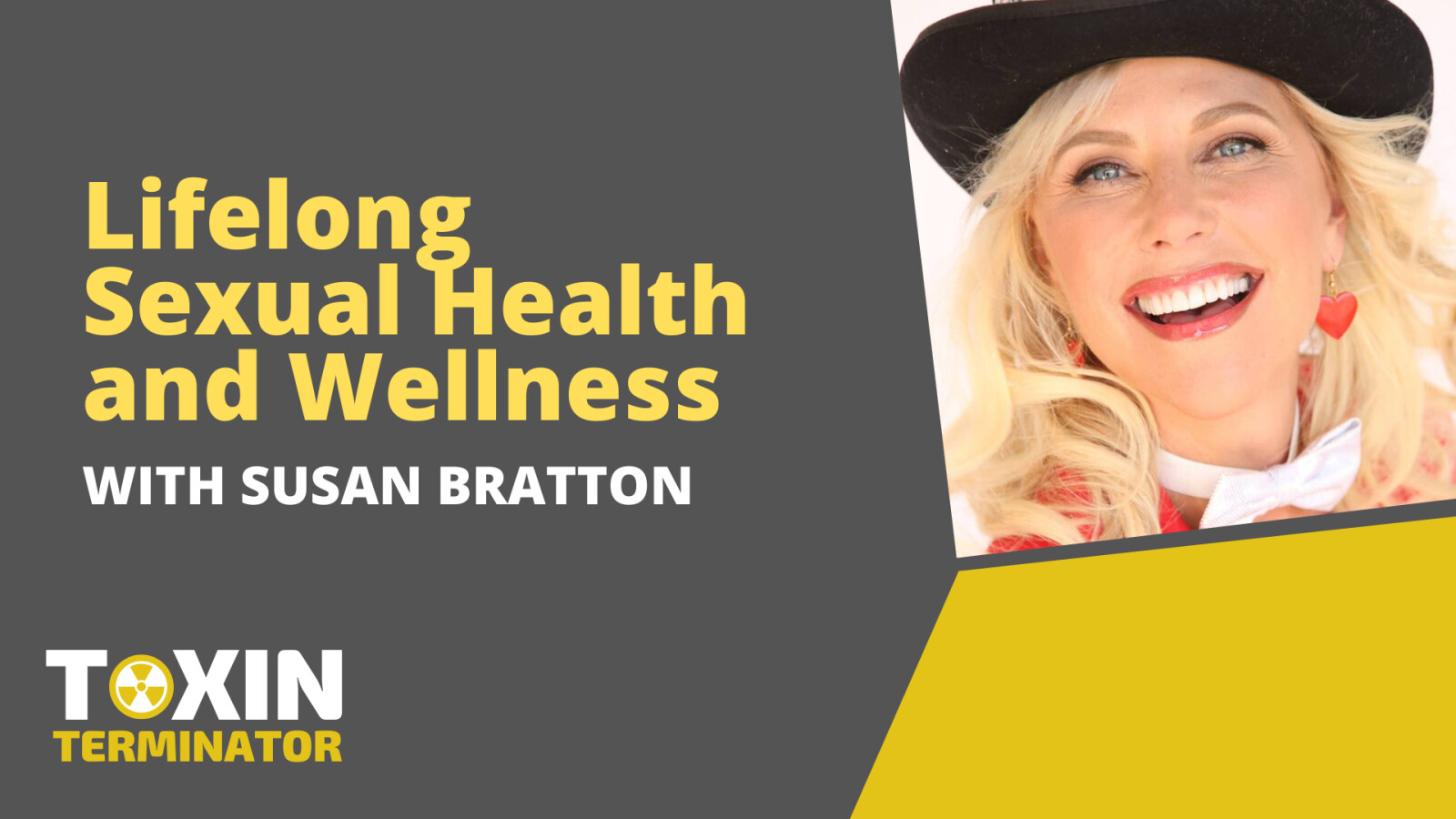 Susan Bratton has helped millions of people of all ages transform sex into making love. Today on the Toxin Terminator podcast, we talk to the "Dear Abby of Sex"! She is an author, an award winning speaker, and a serial entrepreneur who has a been featured in the New York Times as well as on several television stations like ABC, NBC, and FOX.
Tune in as Susan shares with us her own personal story about her struggle with intimacy, how it led her to becoming the trusted sex adviser that she is today, and strategies that you can use to increase your overall and sexual health.
Find out about:
· The two silent libido killers.
· How a messed up microbiome can effect your sexual and overall health.
· Ways to increase and manage the health of your microbiomes.
· What Autophagy is and why it is so important.
· The benefits of fasting.
· Cutting sugar from you life and the effects of sugar addiction.
Quotes:
"We're taught how to make babies, and we're taught how not to get pregnant... but we don't understand how to make love."
"You can't get the toxins out if the biome isn't moving."
"You don't just want to add years to your life, you want to add life to your years."
"Your sexual vitality is your life force."
Important Links and Mentions:
· https://www.instagram.com/susanbratton/?hl=en
Connect with me!
Feb 14, 2019 01:55 PM Central
Aimee Carlson
Science is proving that our lifestyle has a bigger affect on whether we will develop chronic disease or not. The American Cancer Society states that only 5-10% of all cancer cases are genetic. The good news is that means 90-95% is within our control. And doctors are finding lifestyle to be playing a more important role in heart disease, stroke and diabetes. In fact, you can live a life free of these diseases not dependant on medication if you will make a few lifestyle changes.
I encourage you to google the study of Epigenetics. This study is extremely fascinating on how genes are read by cells, and subsequently whether the cells should produce relevant proteins. There is a lot of research on this topic and it ties beautifully into today's blog , as there are studies around what we eat controlling our epigentics.
In today's video portion, I gave you a couple of simple breakfast ideas to replace those processed and highly sugarized breakfasts so many of us eat every day. I want to clarify, as I watched it, that you do not have to add all those fruits and vegetables to your smoothies, these were just great ideas to get you started!!
Let's look at some of the benefits of eating a diet high in whole foods (fruits and vegetables).
Loaded in Nutrients
Low in Sugar
Heart Healthy
High in Fiber
Helps Control Blood Sugar
Good for your Skin
Helps lower Triglycerides
Provides Variety
High in Healthy Fats
Decreased Risk of Cancer and Heart Disease
Contains Antioxidants
Good for your Gut
Promotes Dental Health
Less expensive in the long run
You can make simple changes that will have a huge impact on your overall health now and into the future! Start small. Some of the biggest mistakes we can make is trying to overhaul how we eat overnight. This was my biggest struggle as I looked to improve my health over the last 5 years. I would empty out the pantry and fridge, make my meal plan and make it one week. Then life happened and I would scrap the entire process. It was a constant roller coaster for me. The thing that helped me the most was to assess where I was. From there I needed to walk myself into this. So, I began by eating one meal a day that didn't have any processed items in it. After success there, I added another meal and so on. Now some of you can probably make the leap and I applaud you. But if you can't, it's ok. Just start like I did. What happened over time was that I found I began to gravitate towards the whole foods more and more. The processed meals and snacks began to not feel good to my body. I can still make less than favorable choices now, but the point for me is I no longer beat myself up for it and then punish myself by not choosing wisely going forward.
Make sure to check out some of my favorite recipes to help you replace those processed snacks!!
FREE RECIPES
I would love to hear from you, do you have a favorite recipe? Feel free to comment below and share this with a friend!!
Abundant Blessings,
Aimee