Nov 5, 2018 04:07 PM Central
Aimee Carlson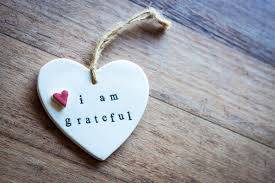 What does having a grateful heart or being grateful really look like??
We hear so much talk about be grateful, have a grateful heart, you should be in an attitude of gratitude-but what does this really look like? How do you practice gratitude on a regular basis?
Isn't it interesting that there are particular times of year that we really focus on certain areas of our life? November is Thanksgiving, so we naturally hear about being grateful and what is in our life that we are thankful for. January is new beginnings, so many of us make resolutions.
Join my in my YouTube live as I share with you how I make being in a place of gratitude a daily habit. I will give you my 4 simple steps that practicing on a daily basis keeps me out of anger and hurt and in gratitude and joy!
Make sure you subscribe to my YouTube channel for more great videos!!