Jan 3, 2019 01:19 PM Central
Aimee Carlson
It's the new year and like so many, we turn to looking at our health. What can we do this year to improve our health and start or up our fitness routine?
Check out my video as I share what 3 things you need to do first!!
So how can we succeed in our fitness routine? Six years ago I chose to quit smoking. I knew if I was going to be successful, I would need to replace the habit. So I decided I would start running. I felt like it was something I could do anywhere I was and it would remind me every time I breathed why I was doing it! Now before you get any ideas, let me tell you I was starting from a position that I couldn't even jog for 60 seconds. I thought I was going to die!! But, I kept at it. I remember looking at the plan I got off the internet and thinking how am I ever going to run for 10 minutes IN. A. ROW!!!??? But, I kept at it. Within 3 months, I ran my first 5k race with my son! I finished that race in 45 minutes and I was so proud!! I had accomplished something!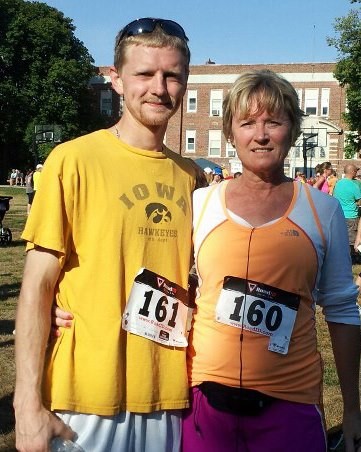 The rest is history, and I went on to run many races from 5k's to half-marathons making lots of friends along the way and feeling great about myself!!
Now what about you? Where will you start? Maybe you are like me and you can just walk 60 seconds at a time. That's ok, don't try to do someone else's plan! You know your body best! When I'm at the gym working out with weights, I have some exercises that I can't even have any weights on the machines!! And I'm totally ok with that, because I'm there and I'm doing something! The worst thing you can do is compare yourself to others. Guess what? There is always someone stronger, faster, better. You just be the best you can be.
Don't overdo it. So many people try to do too much too soon and their bodies let them know, right away! There are lots of plans you can find on the internet for free to help you in choosing what is right for you. The key is it's a marathon, not a sprint. Slow and easy will keep you at this for a long time!
Remember, you don't need fancy equipment or gym memberships to get going. Start with what you have. I do, however, like to splurge on getting new workout clothes though, it makes me feel good and keeps me motivated! Sometimes, the social aspect of a gym is just what a person needs! Perhaps an accountability partner is exactly what will keep you moving every day! You can publicly announce your intentions to your friends, family and loved ones! They can help cheer you on and it keeps you motivated!
So how did I keep at it? I don't know if you're like me, but I couldn't stick to anything!! Let me show you what 3 things I did, that kept me committed and running for over 6 years!!
I'd love to hear what keeps you moving every day!! Share in the comments below!
Here's to a New Year and a New You!!
As we discuss recharging our bodies, I have to tell you that using these two essential oils have been a lifesaver for my adrenals!! I find nutmeg to irritate my skin on it's own, so I use a bit of coconut oil. Apply 1-2 drops of
NUTMEG
over adrenals (found on mid back just about an inch on either side of your spine) first thing in the morning. I then apply a drop of
ENDOFLEX
over my thyroid and a drop or two over my adrenals as well! Check out the picture below. The adrenal glands are the yellow on top of the kidneys. Need to get some of these oils?
CLICK HERE TO GET STARTED