Nov 19, 2018 12:12 PM Central
Aimee Carlson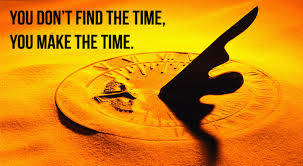 Time ~ We all have the same amount of it each day. So why do some people seem to be able to do all they want and others struggle?
I learned a long time ago, that if I didn't take control of my time, it would control me! When I first went into a position in work where I wasn't punching into a time clock, I quickly realized I needed help in organizing my time. I felt I was just jumping from one thing to the next and many times it seemed like the important things weren't getting done. It was so easy to get distracted! We surely don't set out on a road trip without knowing which way we'll go, right? So why do we go about our days with no map?
The best thing I did was to start using a block calendar. First, I wrote down all the things that I needed to do each day, each week and each month. This was for both personal and work. Next, I looked at what things were non-negotiable; these are going to get done no matter what and I highlighted them in green. I then looked at those things that were negotiable and highlighted them in yellow. After I completed this, I was able to determine what time I needed to wake up and go to sleep so I could accomplish what was on my list. Then I filled in the block calendar beginning with my non-negotiables and then adding in my negotiables after. Some may consider this exercise your determining your rocks. Determining your big rocks, little rocks and sand!
This calendar has changed many times over the years, but I choose to always follow a block calendar so that I know I control my time! At least this way, I know I can make the most of the time that I am given!!
Check out my video portion of this blog as I share what I do with the social media beast!!
Would you like to join my community as I share my thoughts and what I've learned about health & wellness, my faith, being an entrepreneur and my family? We'd love to have you
JOIN US HERE!!
CITRUS CBD OIL
With Nature's Ultra CBD and a splash of Grapefruit and Orange essential oils from Young Living, our Citrus CBD Oil is energizing and refreshing.
CALM CBD ROLL-ON
Calm CBD Roll-On from Nature's Ultra creates a peaceful environment that will help relax and quiet your mind. Infused with Young Living Essential Oils, Calm is perfect for when you're trying to wind down for the night.
CBD MUSCLE RUB
Soothe your tired muscles with CBD Muscle Rub! It takes the hot-and-cold sensation of menthol and gives it a boost with Nature's Ultra CBD and an array of Young Living essential oils: Camphor, Clove, Helichrysum, Lemon, Peppermint, Tea Tree, Wintergreen, and more. These ingredients work in perfect harmony to soothe your hard-working body.