May 23, 2022 02:03 PM Central
Aimee Carlson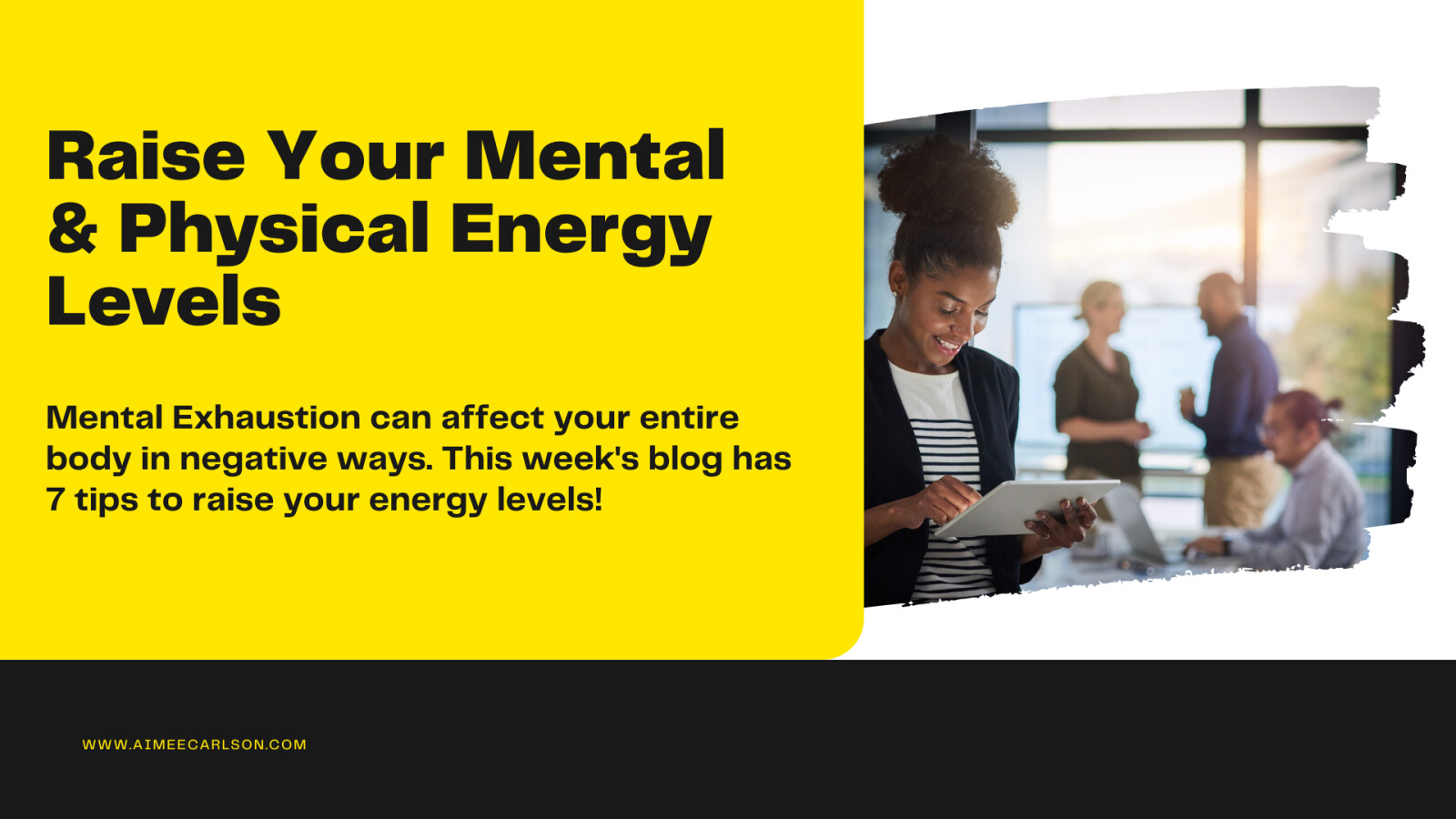 Activities That Raise Your Physical and Mental Energy Levels
There are many activities that you can do to help raise your energy level, whether you need more mental energy or physical energy. Your mental and physical energy are so intertwined that when you do something to help one you're automatically helping the other. Here are some effective activities to try.
Develop a Daily Meditation Practice
– Meditation is an important way to help reduce mental stress so that you can focus better. Not only that; you'll also learn to be more mindful of everything you do, which will help you avoid exhaustion in the first place, most of the time. One of my favorite meditation practices is BrainTap. It's really not meditation, as it is retraining your brain, but I find it just as relaxing as meditation.
You can check it out here!
Some of my favorite essential oils to use for relaxing are frankincense, lavender, stress away, peace and calming, cedarwood and any of the citrus oils!
Move Your Body Every Single Day – Moving is something that is so important that even if you have a physical job, you should still find a way to get in more moving in an intentional way. Even if it's just a few brisk ten-minute walks, it's a way to clear your mind and get your blood flowing. Anytime you feel a slump coming on, take a fast walk. I find short walks in the morning and afternoon just really help clear my mind!
Keep a Gratitude Journal
– Another way to stay energetic, both mentally and physically, is to be a positive person. Not everyone is positive naturally, but you can start to trick your mind into being that way by keeping a gratitude journal. Each night before bed, write down three things you're grateful for. That will make it the last thing you think of each night. You can make this even more effective if you use a journal that is also a coloring book. Coloring will soothe your mind and relax you. I found this journal at Target and love the prompts in it!!
Simply Grateful Journal
Find Your Energy Music – Everyone has positive, uplifting music that they really enjoy and that makes them feel upbeat. However, some of it can also make you unproductive, so it's important to try out different types of music for different activities. If you think a song you sing to might not be the right one for work, it may very well be just the ticket for your ride home in the car. I personally love to listen to praise music. Lots of great uplifting messages!
Play a Game – Games and puzzles are great ways to have some downtime but are also good for your mind. Do at least one type of puzzle each day (such as a crossword puzzle) to help keep your brain thinking and to get your mind off other things that are pressuring you and sucking your energy. Sometimes it's fun to play a game with another person too, such as a silly fast card game like Uno just to break the pace. I encourage you to do these old style, get off your devices!
Start a Yoga Practice – One of the best exercises for both mind and body is yoga. There are all types of yoga that you can get involved in. If you're a member of Amazon Prime, you can get free videos for beginners to get started. Alternatively, you can join a class, which is a great way to feel more connected to the world at the same time.
Drink Water and Eat Chocolate – Sometimes, it's impossible to take time out to do anything mentioned. If that's the case, a fast way to improve your energy is to drink water so that you're hydrated and eat a small 1 oz serving of dark chocolate. If you cannot eat chocolate, another alternative is a crunchy apple.
It might seem like these activities will take away from the time you need to spend on things you need to do. But the truth is, the more productive you are, the easier everything will be. Productivity doesn't mean that you need to take more time doing something. It means that you need to focus closely on what's at hand, and not what's to come. By taking breaks with these activities, you can help yourself become far more productive and reduce mental and physical exhaustion exponentially.
Which will you incorporate into your routines?
CITRUS CBD OIL
With Nature's Ultra CBD and a splash of Grapefruit and Orange essential oils from Young Living, our Citrus CBD Oil is energizing and refreshing.
CALM CBD ROLL-ON
Calm CBD Roll-On from Nature's Ultra creates a peaceful environment that will help relax and quiet your mind. Infused with Young Living Essential Oils, Calm is perfect for when you're trying to wind down for the night.
CBD MUSCLE RUB
Soothe your tired muscles with CBD Muscle Rub! It takes the hot-and-cold sensation of menthol and gives it a boost with Nature's Ultra CBD and an array of Young Living essential oils: Camphor, Clove, Helichrysum, Lemon, Peppermint, Tea Tree, Wintergreen, and more. These ingredients work in perfect harmony to soothe your hard-working body.