May 3, 2022 08:35 AM Central
Aimee Carlson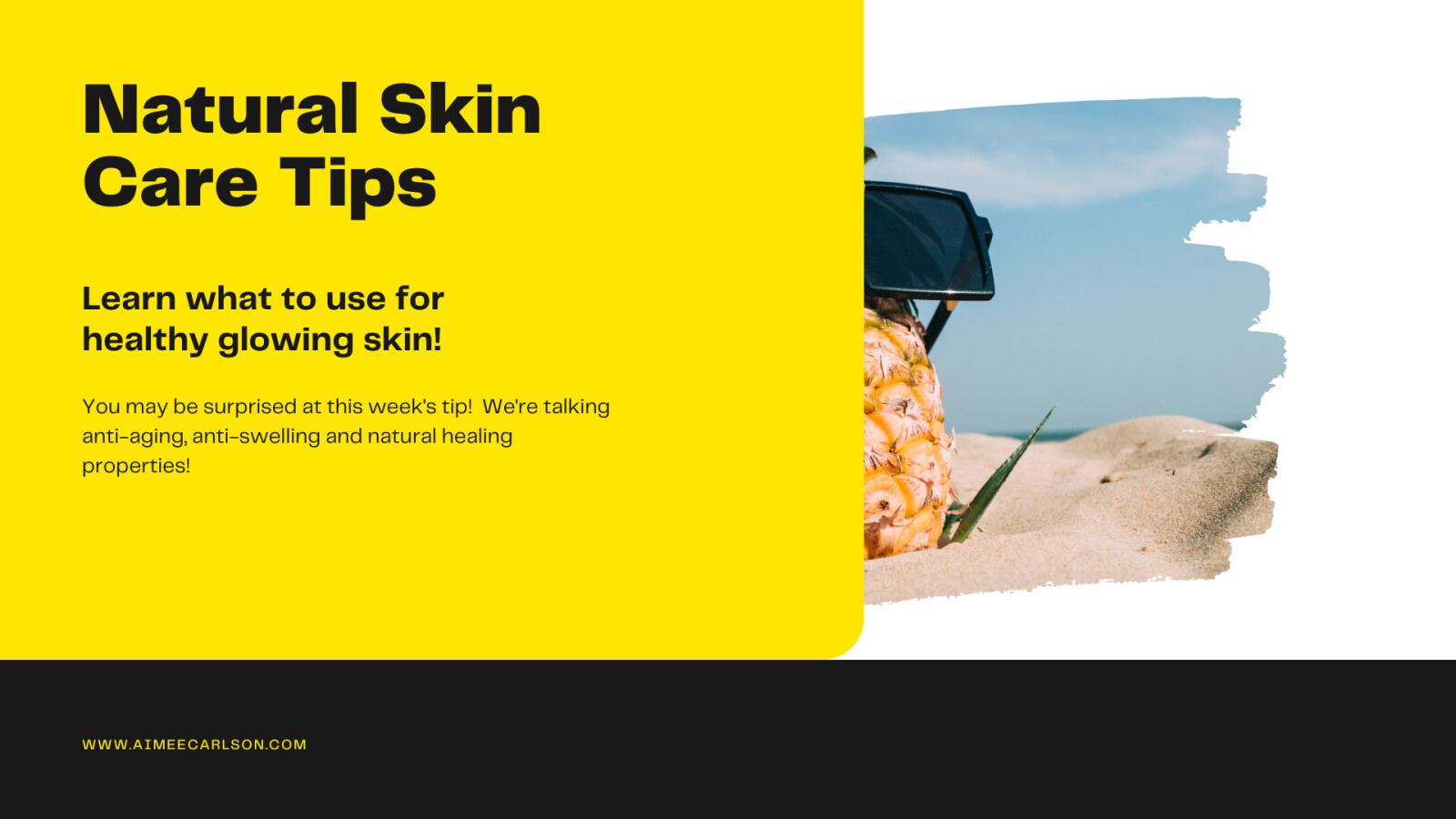 In today's final blog about natural
skincare, we're going to discuss why
integrating pineapple juice, as awkward
as it may sound, could give your face an
allover glow.
First and foremost, however, it's important
to know that pineapple juice is fairly
acidic. Please test it out on a small
portion of your skin or meet with a
healthcare provider first.
One of the best things about pineapple juice,
aside from tasting so good, is that it's
highly anti-aging. And you should really
start your anti-aging skincare treatment as
early as your twenties.
If you haven't and are new to it, no need
to worry.
Try dabbing a little bit of pineapple juice
on a cotton ball and run it over a recently
cleansed face. The bromelain, vitamin c and
antioxidants will quickly go to work at reducing
any fine lines and wrinkles, as well as keep
it looking nice and young.
Let it sit for about five minutes and then rinse
with warm water.
Bromelain is known for its skin-softening
properties, and it's also great for getting
rid of swelling.
If you have puffy eyes, try applying a little
bit of pineapple juice on a q-tip and gently rub
it into your under eye sockets. Let it sit for
about five minutes and then rinse off.
Be sure to be gentle, as the skin under our eyes
is very sensitive. And try not to tug too hard on
them.
And if you decide to use pineapple juice, be sure
that it's 100% juice and, if possible, certified
organic.
Pineapple juice is also great for sun-damaged skin.
Remember that it is acid though, so be gentle and test
it on a very small part of your skin.
Try diluting some pineapple juice with some warm water,
and then applying it to the sunburn. Let it sit for
about 10 minutes and then slowly rinse off.
Overall, it's hard to beat the. Natural healing properties
of pineapple juice!
I hope you've enjoyed this series on natural skincare,
and that you'll give some of these a try. Let me know
what you add into your skincare routine! I'd love to
see the before and after photos.
CITRUS CBD OIL
With Nature's Ultra CBD and a splash of Grapefruit and Orange essential oils from Young Living, our Citrus CBD Oil is energizing and refreshing.
CALM CBD ROLL-ON
Calm CBD Roll-On from Nature's Ultra creates a peaceful environment that will help relax and quiet your mind. Infused with Young Living Essential Oils, Calm is perfect for when you're trying to wind down for the night.
CBD MUSCLE RUB
Soothe your tired muscles with CBD Muscle Rub! It takes the hot-and-cold sensation of menthol and gives it a boost with Nature's Ultra CBD and an array of Young Living essential oils: Camphor, Clove, Helichrysum, Lemon, Peppermint, Tea Tree, Wintergreen, and more. These ingredients work in perfect harmony to soothe your hard-working body.