Apr 18, 2022 09:58 AM Central
Aimee Carlson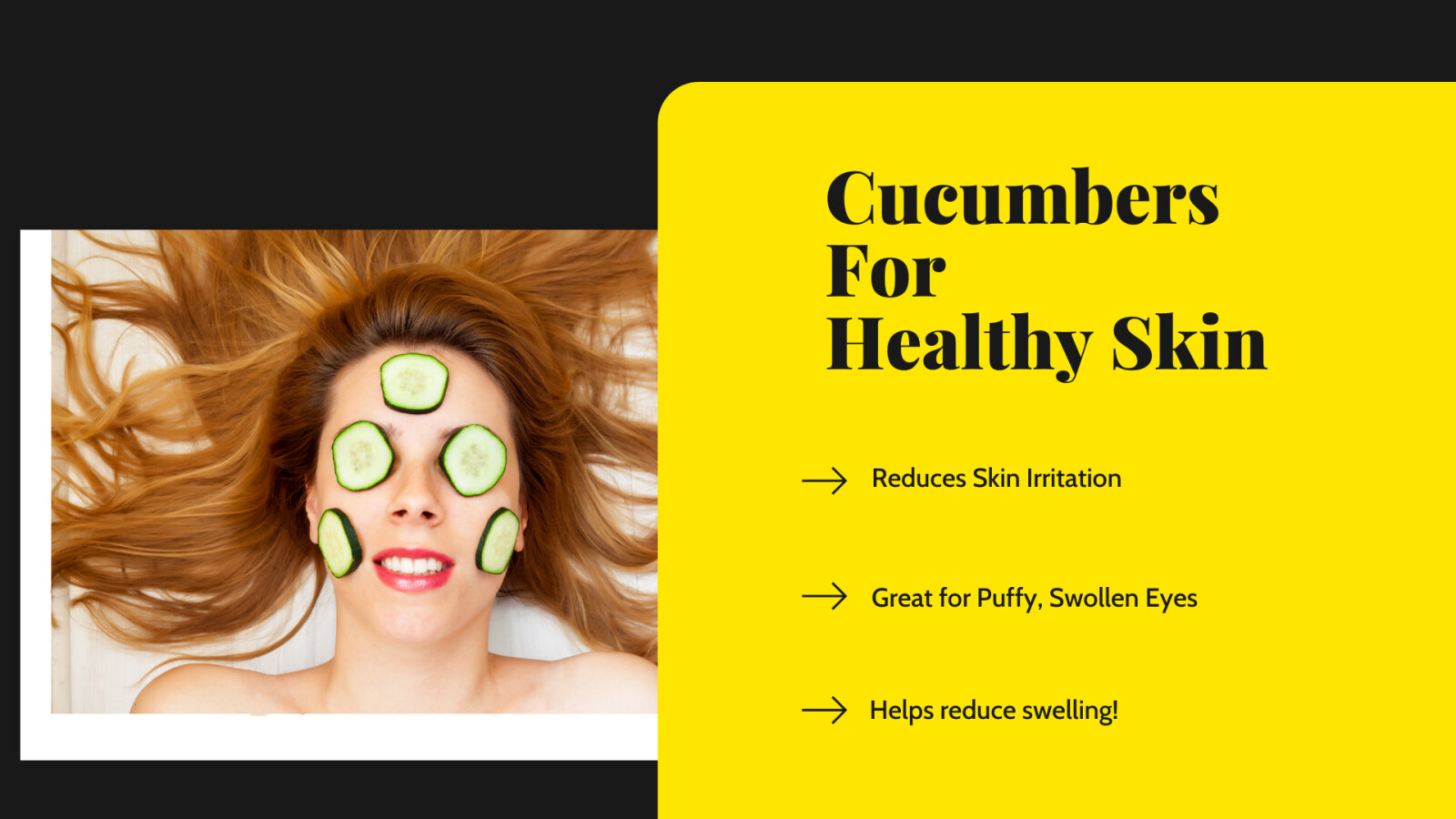 There's a reason you constantly see people
in spa ads with slices of cucumber under
their eyes, smiling while they relax in a
large towel.
This vegetable is truly a gift from Mother
Nature to our bodies!
In addition to being good for your physical
health when consumed, cucumbers are saturated
with antioxidants that can do wonders for
your skin when applied topically.
In some of my previous blogs, I've mentioned
that antioxidants are perfect for reducing skin
irritation. Which is why you should add
cucumbers to your natural skincare routine.
Simply take a few slices of chilled cucumber
and place them on the part of your skin that's
irritated for about 5-10 minutes. It might take
a few applications. And of course, please
consult your physician for any long-term skin
irritation.
If you're one of the millions of people in this
world who suffer from allergies, then you should
absolutely add cucumbers to your natural skincare
routine!
With seasonal allergies often comes puffy eyes, and
all you need to do is apply a cucumber slice to each
of your eyelids and wait about 5-10 minutes. Keep
your eyes closed, too.
Then remove the slices and massage any cucumber juice
into your skin. Not only will your eyes look more
refreshed, but you'll be amazed at how much better
they feel!
Another great benefit of cucumbers is that they're
loaded with water, which is perfect for reducing
swelling.
Some people suffer from swollen ankles, and while
water and elevating your feet will often help, it's
also a good idea to apply some chilled cucumber
slices to them as well.
Keep them elevated and wait about 5-10 minutes,
just like the other home remedies, and then
massage any cucumber juice into your ankles.
This is especially good if you're a woman who
suffers from water retention during her menstrual
cycle. Consider doing it more often during those
times of the month, if necessary.
These are just a few ways to use refreshing
cucumbers as part of your natural skincare routine.
In next week's blog, I'll discuss the benefits of
turmeric as part of your natural skincare routine!
Blessings,
Aimee Carlson
The Toxin Terminator
As we discuss recharging our bodies, I have to tell you that using these two essential oils have been a lifesaver for my adrenals!! I find nutmeg to irritate my skin on it's own, so I use a bit of coconut oil. Apply 1-2 drops of
NUTMEG
over adrenals (found on mid back just about an inch on either side of your spine) first thing in the morning. I then apply a drop of
ENDOFLEX
over my thyroid and a drop or two over my adrenals as well! Check out the picture below. The adrenal glands are the yellow on top of the kidneys. Need to get some of these oils?
CLICK HERE TO GET STARTED