10/14/2019 06:00 AM Central
Aimee Carlson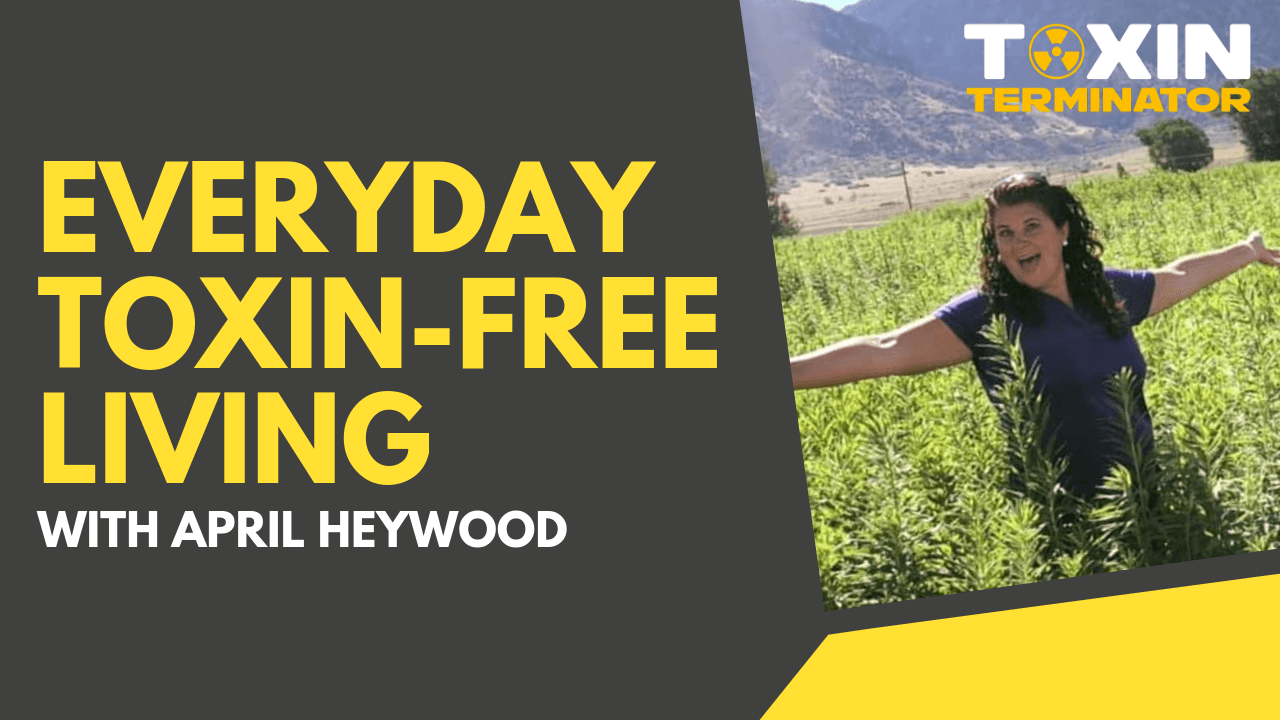 Part of the intention around my podcast is to share impactful and inspiring stories of people who have changed their lives and overcome obstacles.
For me, I was introduced to the idea of toxins by accident 5 years ago.
But for April Heywood, my latest guest on the Toxin Terminator podcast, her introduction to toxins was intentional, starting as a young adult. Her instinct and intuition around toxins was very clear right from the beginning and I'm grateful I could spend some time with her to share her stories, insights and tips.
April is a "Label Looker"
Are you a "label looker"? What I mean by that is, are you constantly looking at product labels and ingredients at the store?
You know who I'm talking about, right? Individuals who take up space in the grocery aisle while they're squinting at the label on the back of a box of anti-histamines.
Well, April would describe herself as a one of these people!
As a teenager, she recalls reading the labels behind ibuprofen bottles and how she found the contents could possibly upset her stomach. She always had a strong awareness of what she was putting inside her body.
April would take the time to do things like read the back of, say, a box of tampons.
"Why didn't anyone ever tell me about Toxic Shock Syndrome?"
It was clear to her that it was important to know what you are ingesting and taking into your body. Being in control of her own health was obvious to her and she really didn't feel the need to follow the crowd.
But, she never considered the idea that there are things OUTSIDE of your body that can have negative side effects too, from skin creams to oil-based candles. It was a surprise to her when she realized this fact.
In our culture, when we think of health and wellness, we think of things like diet and exercise. But what the majority of people are not aware of is that the toxins in our environment have just as much of an impact on our bodies: laundry soap, Wi-Fi signals, scented plug-ins, dryer sheets etc. The list goes on and on!
The shift to toxin-free living
April became passionate about essential oils. She threw away all her synthetic fragrance products like plug-ins, candles and sprays because the fumes they create are toxic to your lungs. She uses oils in her home to create a nice scent and to enhance her health.
As she learned more and more about essential oils and their benefits, April was introduced to a new community of people who had knowledge and experience to share about other external toxins.
"I started learning about the water I'm drinking and the air I'm breathing and it opened up a whole new world."
She learned about the amount of unnecessary chemicals used in many products we use daily and it really spurred her on to build a life around reducing the toxins in her home and her body.
If you could only change one thing?
Start with deodorant, says April.
It has one of the worst lists of toxic ingredients and it is being used in one of the most sensitive areas on our body!
Your armpits are designed to release toxins from the body, not absorb things like aluminum or parabens! The armpits are key to the detoxification process of the lymphatic system.
So, using good deodorant is important. Deodorant was also April's first DIY (do it yourself) project.
Cleaning products
What dangers lurk in your cabinets?
It's also a myth that we need one cleaner for the toilet, one cleaner for the windows and another cleaner for the bathtub.
When you begin using natural cleaners, you will find that they are easy solutions made with simple ingredients that will clean your entire house! Imagine using one bottle to clean every room in your house.
Not only will this simplify your life, but these types of cleaners are safe for pets and children too. Many natural cleaners, if accidentally ingested, are still safe and not considered poisonous.
You absolutely can clean your home by only using ingredients like vinegar and baking soda. It is amazing when you experience the results.
The laundry room
It was a DIY laundry class that introduced April to the idea of clean laundry detergent. She couldn't believe how easy and cheap it was to make your own detergent.
But after experimenting several times, she just gave in to the fact that the detergents she was making just didn't clean her laundry all that well.
With some more research, more trial and error, she eventually found the best non-toxic detergent option. She discovered that without using enzymes, your laundry won't get as clean. The enzymes help to break down the grease and grime in your clothes.
Dryer sheets
People are loyal to their dryer sheets. So, this can be a huge challenge for people to abandon their sheets, because we equate clean with smell!
This is yet another myth!
You don't need a dryer sheet with a scent to make your clothes smell good. And by the way, dryer sheets are very toxic!
What people don't know is that when you use fragranced laundry products, your dryer emits a larger range of volatile organic compounds, including hazardous air pollutants, than non-fragranced products! (See study
here.)
If hazardous air pollutants are leaving your dryer vent, then you can be sure that pollutants are sitting in the closet and rubbing against your skin.
For the dryer, April prefers using wool dryer balls.
You can put essential oils on the dryer balls to give your clothes a scent like lavender or cedar. Or you can even dilute the oil in water in a spray bottle and spray the dryer balls directly. This will really give your clothes a lovely scent!
Hair and body products
Even hair products can create havoc in your body. It's hard to believe but most hair and body products are filled with toxic ingredients you need to avoid. The regulation around cosmetic and personal-care products is sub-standard.
So, again, it's really up to you, the consumer, to be aware and take control of the products you are using.
Because April has gorgeous curly hair, she got interested in the Curly Girl Method, which is a way of styling curly hair by cutting out silicones, parabens, and sulfates. She took the program one step further by making sure the products she was using was meeting her toxin-free standard.
Since April is a DIY girl, she decided to make her own hair gel using flax seed oil. It's super moisturizing, strengthens hair, is incredibly cheap and easy to make.

The product that has hidden toxins
Make-up was the biggest surprise to April as it relates to toxicity. It was truly an eye-opener!
The USA only bans 11 ingredients that are considered toxic in makeup. The European Union bans over 1300 chemicals. Can you even fathom this difference?
The make-up purchasing decisions you make in American stores are not safe for you. Period.
Luckily, there lots of natural, mineral based make-up options that feel cleaner, less sticky, less heavy and healthier for your skin.
Toxic-free lifestyle has noticeable benefits
April had some digestive issues. Bananas were the only thing that didn't upset her stomach. And after many visits to her doctor, they weren't able to figure out what the issue was.
On her own, she started making shakes with probiotics and peppermint oils. After only a few weeks, her smoothie brought her digestive system back into balance.
Another big benefit that April noticed was that she rarely gets sick anymore.
"It's a testimony to the fact that I just don't get sick enough to go to the doctor and I also know what I need to do to take care of myself. I know what kinds of things I need to do to support myself and I know what kinds of plants, vitamins and foods that I can feed myself to boost my immune system and to strengthen my body!"
April has truly embraced this way of living and has come to know what her body needs to keep it happy and healthy.
Take it slow and it's never too late!
It can feel stressful when you begin this path down the toxic-free lifestyle road. There are so many concerns, so many options and so much research on this topic.
April stresses that it's important to stay the course and not be intimidated!
"Every positive decision you make is a step in the right direction. And it's never too late."
It's also really important to remember that it's ok to take it slow. Enjoy the journey and the process of discovering new ideas on how to reduce the amount of toxins in your life, without dwelling on your past behaviors and habits.
Remember that our bodies are amazing self-healers and no matter when you start, your body will thank you for it. You are creating a powerful impact on your own life and those around you. You won't regret the decision to live toxin-free!
Follow April's journey on Instagram @April_Heywood where she continues to share her tips, suggestions and experiences about incorporating toxic-free living into her life. You can also find her on
Youtube
.
Watch a short trailer video for this episode below:
Abundant Blessings,
Aimee Carlson
The Toxin Terminator
10/07/2019 10:00 AM Central
Aimee Carlson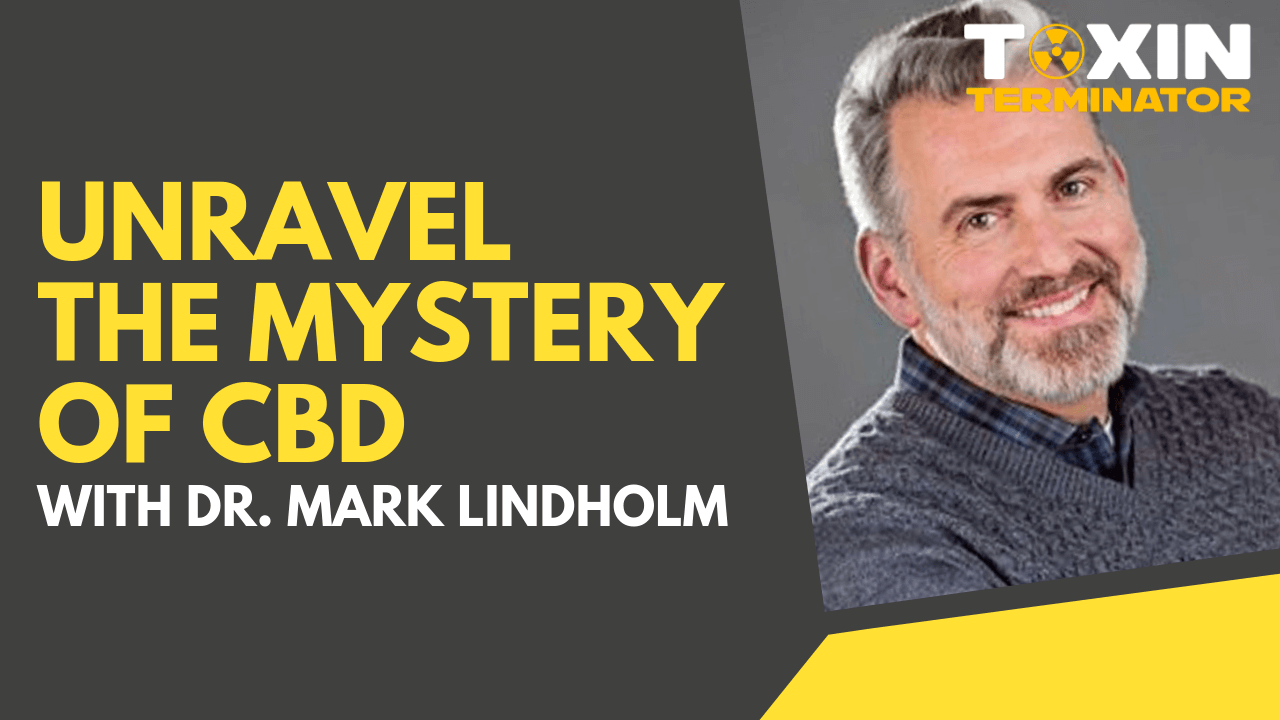 CBD oil is a hot topic and a huge buzz word at the moment. Perhaps like you, I was both curious and confused! I had so many questions related to how CBD can support my own personal health and well-being. There is a lot of conflicting information out there that can make it really challenging to sift through!
That's why I was so grateful I was able to spend some time discussing CBD with
Dr. Mark Lindholm
, a Chiropractic Doctor, author and CBD science expert.
The material we covered will hopefully answer your questions and provide you with the guidance you need to explore using CBD as a way to achieve optimal health.
How Mark's CBD journey began
A few years ago, Mark had a serious wrist injury that would not go away. As a Chiropractor for over 25 years, this injury could spell disaster for his career. This was truly an unwelcome problem that caused Mark a lot of stress and worry.
"This was a painful injury but it also was an emotionally stressful one because I was really worried I might not be able to work anymore."
The idea of losing his career was not an option.
He tried many therapies like cold laser treatment, essential oils, chiropractic, anti-inflammatories and massage. And nothing helped, in fact the problem got worse.
He was desperate for a solution.
So, he decided it was time to try a CBD product. He experienced a drastic improvement and over the course of a month, he was able to rehab the injury with amazing results.
"Out of desperation I tried a CBD product, and within 2 days the pain was about 80% better. It was a dramatic change."
A CBD terminology lesson
Hemp. Marijuana. CBD. THC. I know, these terms can be confusing. Just bear with me as we are about to get super scientific!
Hemp is the parent plant that has been around for thousands of years. It is one of the oldest cultivated plants in the world, with records going back as far back as 6000 years. It was used medicinally as an extract even back then in various cultures around the globe.
Marijuana is a hybridized version of hemp. But what does this mean exactly?
To try and understand the difference between hemp and marijuana, imagine you are driving by a large corn field. It would be very hard to tell the difference between sweet corn, popcorn and field corn. They are all corn but very different.
Hemp is the parent plant and marijuana has been hybridized (or cross-bred) to hold different characteristics. Just like the different types of corn.
In the hemp plant, there are 2 main compounds: CBD, which stands for Cannabidiol and THC which stands for Tetrahydrocannabinol.
THC is the psychoactive part of the hemp plant. The marijuana plant has been bred to produce much higher levels of THC for the purpose of recreational use.
It's important to know that, to be considered legal in the USA, CBD can only have 0.3% THC or less. If it has more than 0.3% THC then it's considered marijuana. You can get pure forms of CBD that contain 0.0% THC.
You will also hear the term full spectrum oil. This means that the oil will contain all of the components of hemp because of their additional benefits. Full spectrum holds at least 60 different types of cannabinoids. And there are all sorts of beneficial parts of hemp besides CBD, including terpenes, flavonoids, anti-oxidants, and essential fatty acids like Omega-3 and Omega-6. All of these combined makes a full spectrum hemp oil.
Endo-what? Endocannabinoid!
We can't talk about CBD without talking about the endocannabinoid system (ECS). Prepare yourself for another science lesson!
If you are uncertain about taking CBD or other cannabinol products, the reality is that you are already producing cannabinoids in your own body!
This system is relatively new to the medical community and was only discovered in the 1990's.
Basically, it is a critical biological system that is responsible for keeping your body in homeostasis or balance. It helps to regulate pain, appetite, sensation, inflammation, mood and stress response. It is the master controller of balance in your body.
Cannabinoids are the active compounds in the cannabis plant. But we also have cannabinoids in our own body, called endocannabinoids.
Within the ECS system, these endocannabinoid receptors are found in the brain and nervous system (CB1 receptor) and in the immune system (CB2 receptor.) And every system in our body has these receptors.
When you take a CBD product, the CBD molecule binds to these receptors and activates them, which assists in this balancing effect. And that is why many people experience additional positive side effects because of the effect it has on so many of the systems in our body.
For example, a patient may take CBD oil for chronic pain but find that their anxiety has improved.
In Dr. Lindholm's practice he witnessed this balancing effect in his patients who were taking CBD products.
"It improved their health and they were able to take less medication."
Some studies have shown that 50% of people that take a CBD product are able to diminish or discontinue medication.
There is still so much to be understood about the ECS system and we are just on the horizon of this new yet important field of study.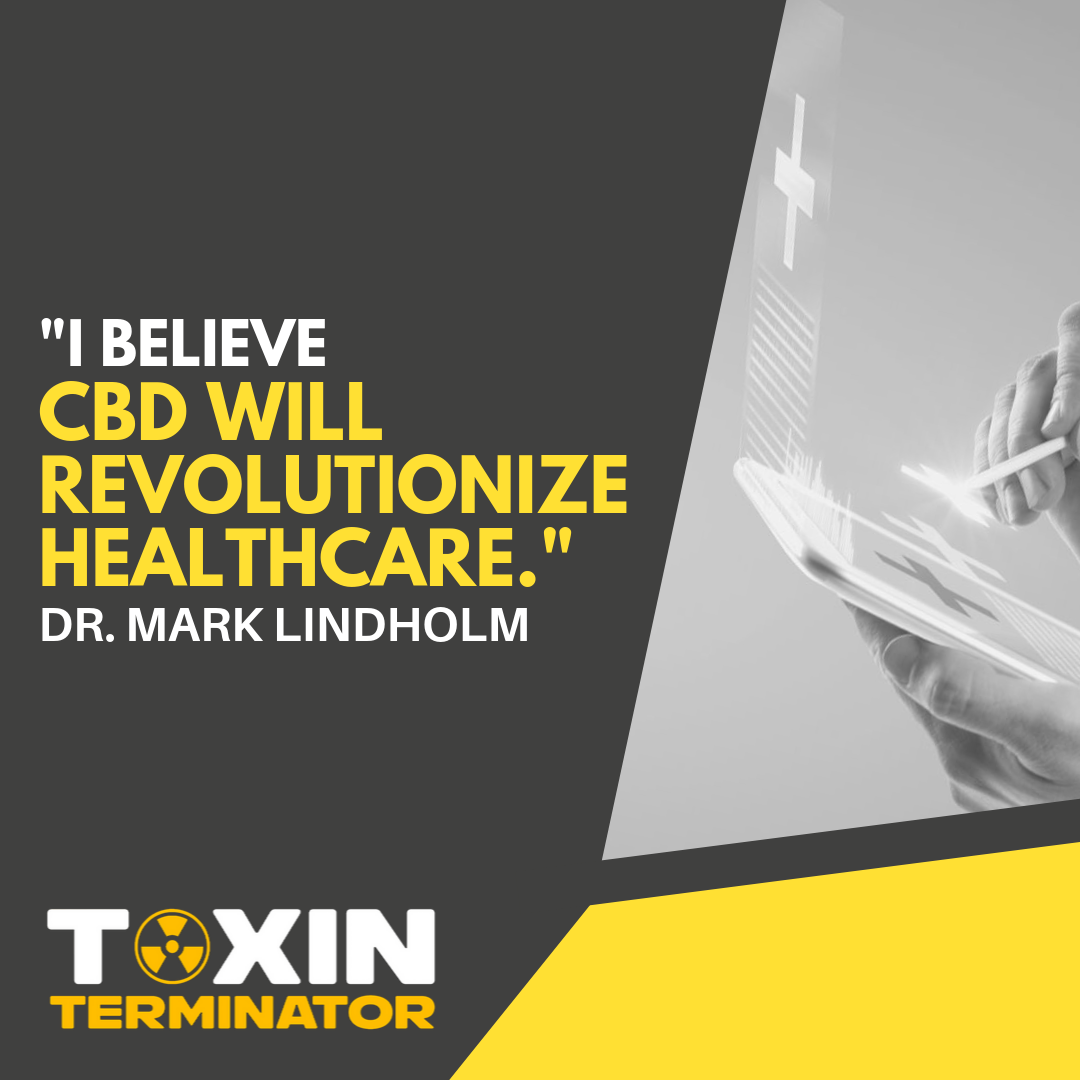 Is CBD Safe?
According to Dr. Lindholm, a full spectrum hemp oil is safe to use.
"It is so safe. It is safer than Vitamin D. Because our body naturally produces these compounds."
You won't become addicted to hemp oil and CBD. But this is not the case for THC and marijuana products.
The
World Health Organization
has looked into the potentially harmful effects of CBD and they declared it does not appear to have abuse potential or to cause harm. In fact, there are cases where it actually helps people to detox off their addictions to other medications, such as opioids.
4 things to consider when buying a CBD product
As a general rule of thumb, always make sure that the producer you buy from has GMP (Good Manufacturing Practices) certification and 3rd party testing. They should also be certified by the US Hemp Authority.
Some other things to consider:
The CBD product should be a categorized as a full spectrum hemp oil.
Make sure the CBD or hemp is organic. Finding a USDA Certified organic product, preferably from domestic hemp (not imported hemp) is highly recommended.
THC levels
Absorption levels
As mentioned before, to be legal, a CBD product can have THC levels of 0.3% or less. The only way you can know this for sure is if the product has gone through 3rd party testing. Otherwise, quality control is limited and actual levels of THC may be uncertain.
Many companies will market the different levels of strength of the CBD, for example, regular strength or 1000 mg of CBD. The important thing is not the strength or dose, but actually what your body absorbs.
Just as oil and water don't mix well, your body doesn't absorb oil well either. Most hemp oils are only absorbed at about 3 to 6%! This means that most of the CBD you consume (between 94 and 97%) will never be used by your body! And depending on how much you spend, it may not be cost effective.
If you buy a bottle with higher rates of absorption, let's say 80%, now you are getting value for your dollar. It also means you can consume less amounts, less frequently with higher effectiveness.
The benefits of CBD oil
CBD is essentially a plant based product that has many benefits to the body. In Dr. Lindholm's book, he covers many of these benefits.
Because CBD is a supplement and not a drug, Dr. Lindholm is not making any medical claims that it treats different conditions. His book is an in-depth look into all the medical literature and research that demonstrates how CBD has been of benefit to certain conditions.
Some of the benefits that he mentions in his book include:
Reduction of swelling and inflammation for things like IBS, Crohn's disease, joint pain, arthritis, skin irritations
Pain reduction
Balancing mood and other mental health issues like anxiety, depression and PTSD
Blood sugar levels.
There are also many studies being done on how CBD can be used to treat cancer - from breast cancer to pancreatic and prostate cancer. (Mark dedicates an entire chapter to this topic alone in his book!)
Want to explore CBD a little further?
If you are interested in learning more, I highly recommend Mark's book and you can purchase it on
Amazon
or
Barnes and Noble
.
It has everything Mark looks for in hemp products. It's sourced from USDA Certified Organic hemp, it is 3rd party tested, has 0.0% THC levels, and has very high absorption rates.
A final thought from Dr. Mark:
"I believe in the next 10 years that 99% of Americans will be using a high-quality CBD product or full spectrum oil product. I think it will revolutionize healthcare."
Well, that's a statement to end with! There is so much potential in this area and it is truly exciting to see how CBD will change the future of healthcare and treatment options.
You can watch a short trailer for this episode below:
Abundant Blessings,
Aimee Carlson
The Toxin Terminator